The Rise & Fall of Anne Boleyn Tour
2-8 September 2024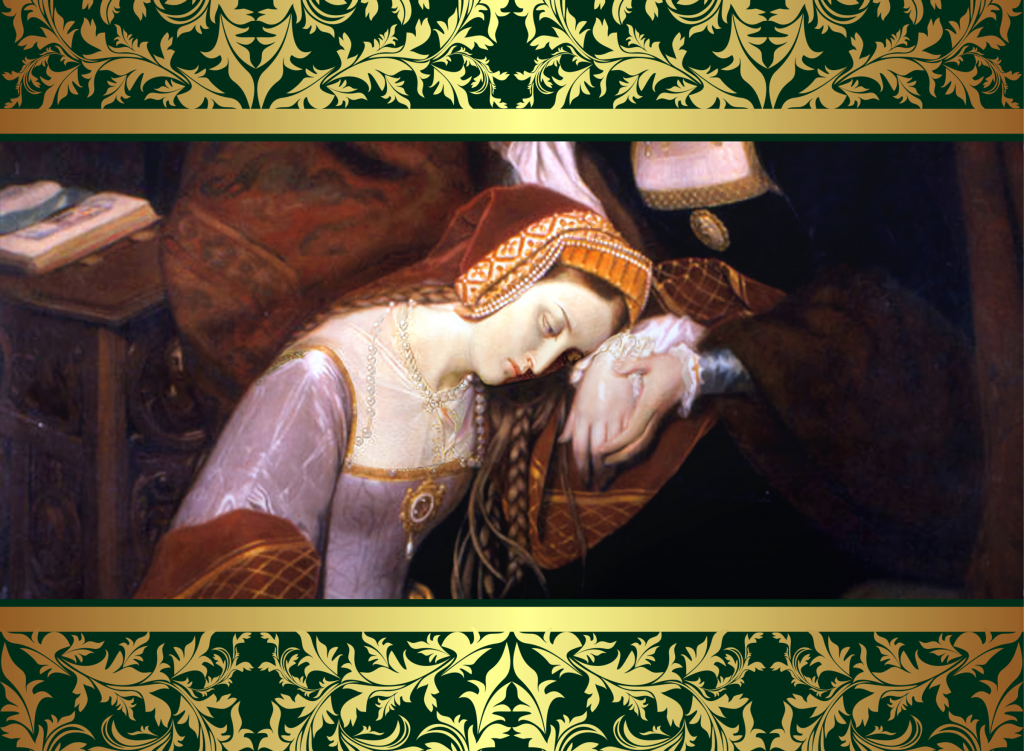 BOOKING INFORMATION
For a summary outline of our tour itinerary, see below.
If you have any questions or encounter difficulties, don't hesitate to contact us via the contact form here.
Ticket Price
£4,200 per person
Based on double occupancy.
(Double Room with Single Occupancy incurs an uplift of 30%)

Limited room upgrades are available for our stay at Hever Castle (see the gallery below for the rooms available).
If you are interested, please indicate this at checkout, and we will be in touch to discuss your wishes further.
Room Upgrade Options at Hever Castle
The Rise & Fall of Anne Boleyn Tour
Tour Highlights
Overview of Your Tour Itinerary…
---
Pre-Tour Course: The Rise & Fall of Anne Boleyn (June-August 2024)
This 3-month mini-course is specifically designed to cater for tour participants. In a series of six online lectures / live chats, (plus additional recommended resources), we will cover the essential ground that paved the way for Anne's rise at court, introduce some of the places we will be visiting and talk about some of the key, but less often discussed, protagonists associated with Anne's fall. This course will be open to the wider world for booking at a ticketed price but will be FREE to those booking the tour. More details will be announced closer to the time.
Day One: 2 September – Arrival and Windsor Castle
Pick up at a central London location and transfer to our boutique hotel, directly opposite Windsor Castle.
Drop our baggage and travel across the road to Windsor Castle to tour St George's Chapel and see the final resting place of Henry VIII, Jane Seymour and Charles Brandon.
Free time in the late afternoon to explore more of the castle or town at your leisure or simply to rest ahead of our special evening event.
Meet in the late afternoon for afternoon tea and enjoy a welcome tale by one of our resident historians, Sarah Morris (aka The Tudor Travel Guide), on Tudor Windsor and the Rise of Anne Boleyn.
In the evening, we will be treated to a private tour of the castle, accompanied by a complimentary glass of Prosecco.
A late dinner in the hotel's 'Windsor Grill'.
Day Two: 3 September – Hampton Court Palace
Travel to Hampton Court Palace for an expert-led tour that will take us behind the scenes with Dan Jackson, Head of Historic Buildings at Historic Royal Palaces. We will explore the state apartments, recreating how they were used during the Tudor period, and dive behind the scenes to explore some spaces away from the usual tourist route!
Following lunch, there is an opportunity to revisit the rest of the palace and gardens and explore them at your leisure.
Late afternoon, return to The Windsor Hotel.
Meet for dinner in the hotel, preceded by a talk on 'The Rise of the Boleyns' by author and historian Adam Pennington (aka The Tudor Chest).
Day Three: 4 September – Hever Castle & Penshurst Place
After breakfast, travel to Hever Castle and check in.
Free time to relax and take in the vibe of one of the most celebrated and beloved locations in the Tudor world.
Mid-afternoon, we will transfer to Penshurst Place for a private house tour before assembling in the Great Hall for Tudor music and dancing. This will be followed by a talk on Tudor food from Brigitte Webster of TudorExperience.com. Brigitte will bring samples of Tudor fare, which you can taste for yourself!
In the early evening, we will travel the short distance back to Hever Castle and settle into our accommodation in the Astor Wing, reserved for our exclusive use, before meeting for an informal BBQ on the lawns overlooking the castle (weather permitting).
Day Four: 5 September – Hever Castle
Enjoy a private, guided tour of Hever Castle in the morning, including seeing one of the Anne of Cleves Heraldic Panels in the flesh and hearing the incredible story of their discovery by one of your tour co-hosts, Sarah Morris. For those who wish, we will follow this with a walk up to St Peter's Church to visit the grave of Sir Thomas Boleyn and his infant son, Henry.
Following lunch, you will have the afternoon free to explore and enjoy Hever Castle & Gardens at your leisure. It will be a time to relax and absorb the history of this beautiful historic house at your own pace.
In the evening, there will be talks by Kate McCaffrey on Anne as a religious and cultural reformer and catalyst and Natalie Grueninger on The Final Year of Anne Boleyn as we will gather for a very special dinner in the Great Hall. Henry VIII himself will preside, and we will be serenaded by live Tudor music.
Day Five: 6 September – The Tower of London
We have an early start to make the most of an extraordinary opportunity to access the Tower before it officially opens to the general public. Led by Alfred Hawkins, Assistant Curator of Historic Buildings at Historic Royal Palaces, we will visit the site of Anne Boleyn's grave in the chapel of St Peter ad Vincula before touring the Tower and exploring more of the most critical spaces associated with her story.
Free time after lunch to explore more of the Tower for yourself or accompany your cohorts to Tower Hill and the site of the scaffold, where so many, including George Boleyn and the other men condemned alongside Anne, died.
After checking into our City hotel, we will head out into London for the evening to enjoy a local restaurant recommended by our resident Londoner co-host, Adam Pennington.
Day Six: 7 September – Westminster Abbey
We will meet our Blue Badge Guide, who will co-host our exploration of Westminster Abbey. Along the way, we will focus on the ceremony of coronation. We will share tales of the coronations of both Anne and her shining legacy, Elizabeth I. We will also hear stories from your cohosts about the rediscovery of the burial vault of Henry VII and Elizabeth of York in the 1800s.
Visit the tombs of Anne of Cleves, Elizabeth I, Mary I, Edward VI, Mary, Queen of Scots and Margaret Beaufort.
Head up to the Jubilee Galleries to see artefacts belonging to the Tudor dynasty, including the funeral effigies of Elizabeth of York, Elizabeth I, Mary I and Margaret Beaufort's Book of Hours.
In the afternoon, there will be the option to take a leisurely stroll along the river, with your tour hosts, to visit the newly refurbished National Portrait Gallery and its Tudor room, where you can see some of the finest surviving Tudor portraits, including those by the great Hans Holbein. Naturally you may choose to explore more of the Abbey or head onto another London landmark at your leisure.
Meet for a farewell dinner in the hotel.
Day Seven: 8 September – Departure
Following breakfast at our London hotel, we will say our final farewells.
---
---
Guest Experts
Dan
Jackson
Historic buildings curator for Hampton Court Palace in Surrey. According to Dan, 'one of the greatest palaces ever built'. Dan is responsible for six acres of scheduled monuments, listed buildings, and 650 acres of historic parks and gardens.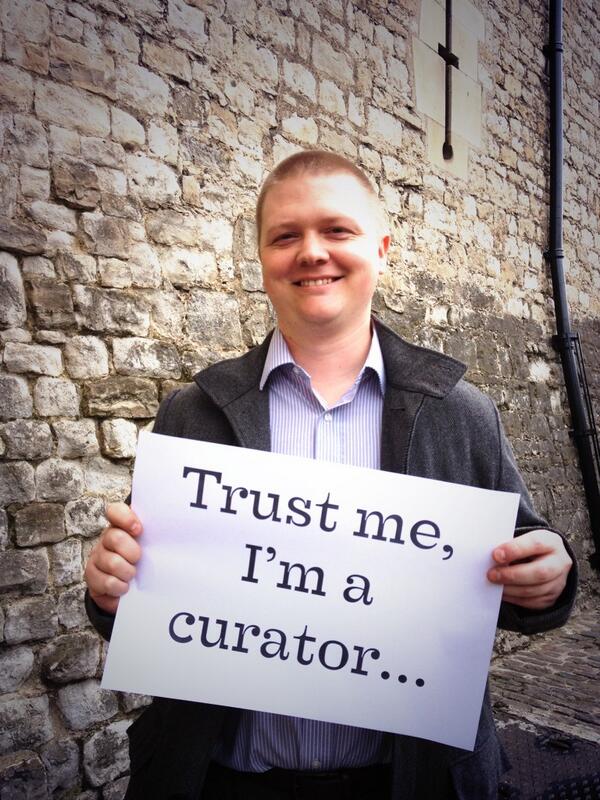 Alfred
Hawkins
Assistant Curator of Historic Buildings at Historic Royal Palaces since 2018, responsible for preserving and protecting the built fabric, landscape setting and archaeological deposits at HM Tower of London and Banqueting House, Whitehall.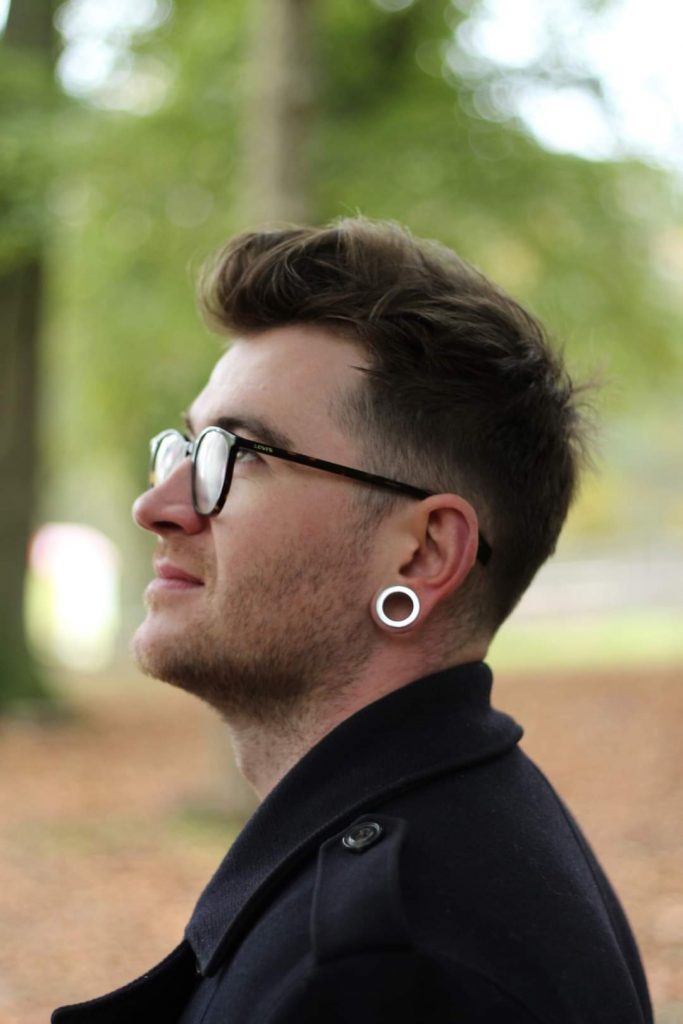 Kate
McCaffrey
Kate is the Castle Historian & Assistant Curator at the beautiful Hever Castle. Her MA thesis focused on groundbreaking, new evidence she uncovered in one of Anne Boleyn's printed Books of Hours, held at Hever Castle.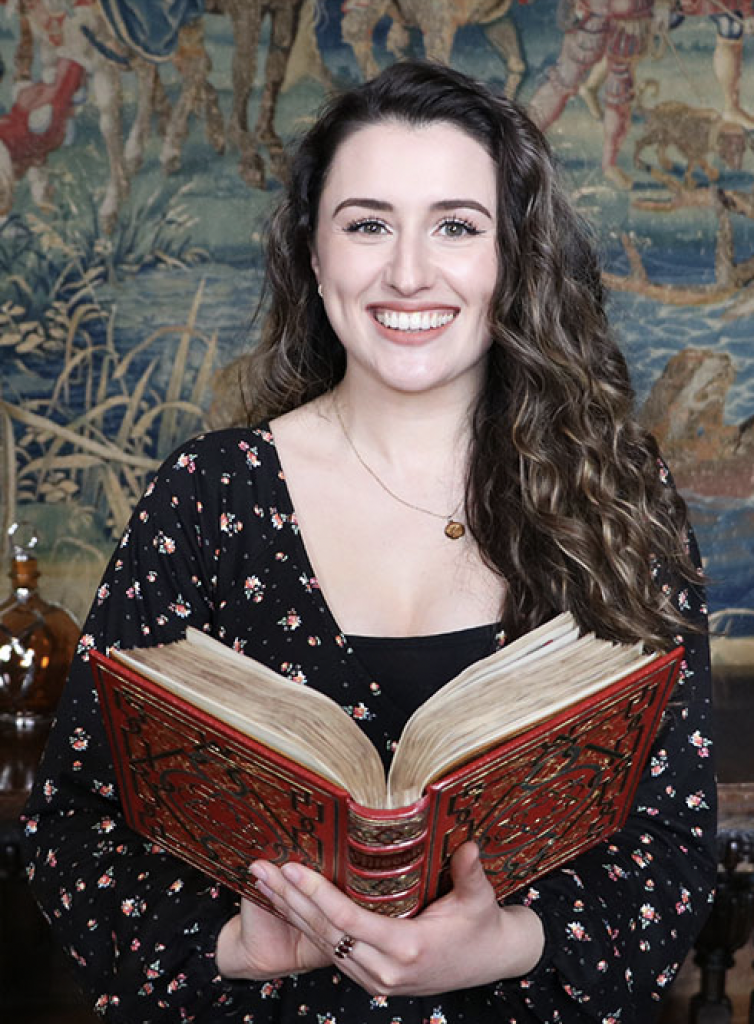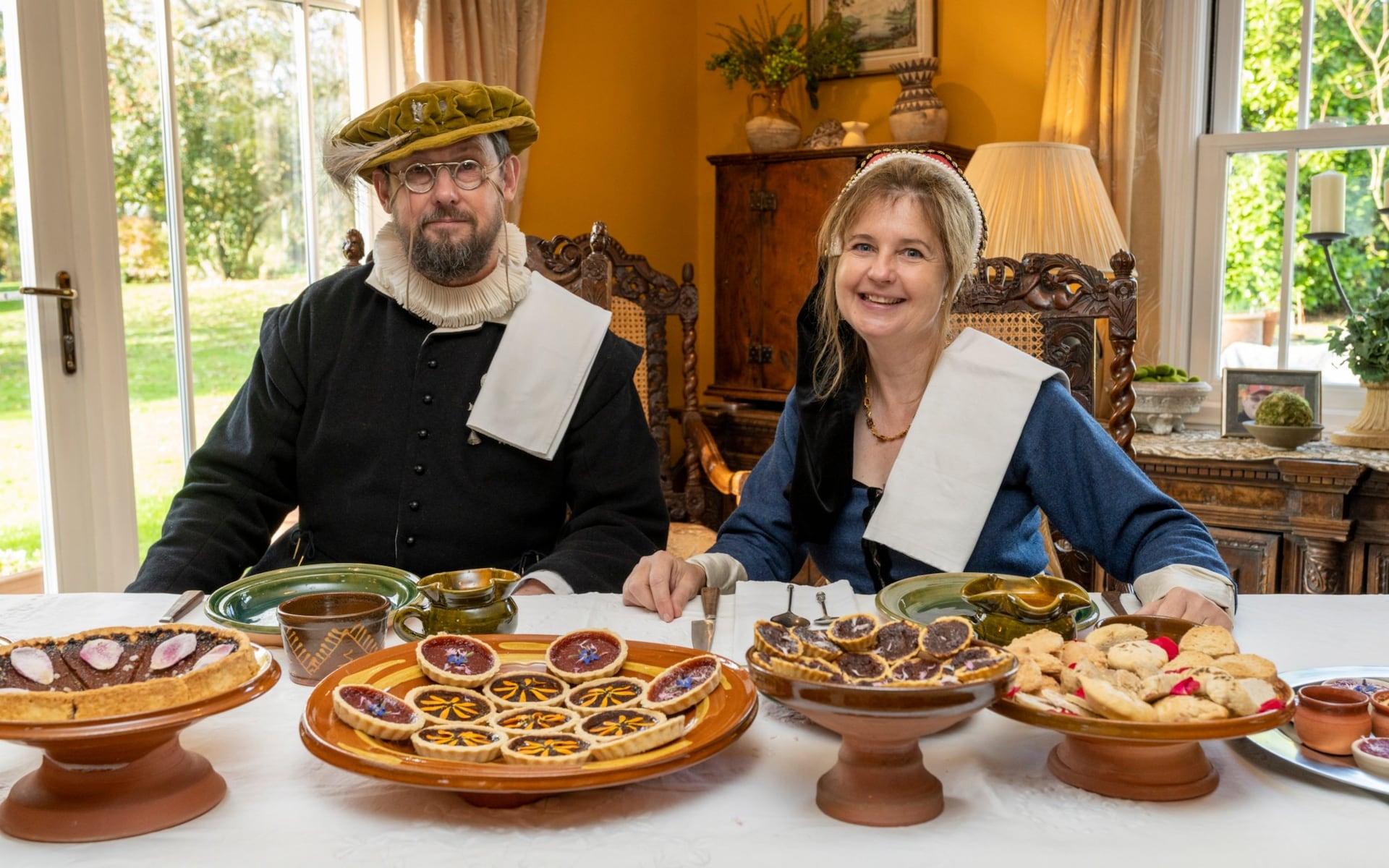 Brigitte Webster
TudorExperience.com
Brigitte trained and served as a school teacher for 25 years. Her qualification was in history and cooking, a combination that finally came together a few years ago in her new career as a culinary historian. She recently released her new book, Eating with the Tudors, a fabulous collection of authentic Tudor recipes. The Tudor and 17th Century Experience (TudorExperience.com) is a venture that finally allows her to share her passion for all things Tudor with a broader audience from their early sixteenth-century manor house in Norfolk.
Book Here Now!
Simply Tudor Tours has insurance arranged by Event Insurance Services Ltd & underwritten by Bspoke Underwriting Ltd on behalf of Watford Insurance Company Europe Limited. Watford Insurance Company Europe Limited is a Gibraltar based insurance company with its registered office at; P O Box 1338, First Floor, Grand Ocean Plaza, Ocean Village, Gibraltar. Bspoke Underwriting Ltd is authorised and regulated by the Financial Conduct Authority. Firm Reference No. 310101. You can check Our details on the Financial Services Register https://register.fca.org.uk/. Watford Insurance Company Europe Limited is authorised and regulated by the Gibraltar Financial Services Commission under incorporation number 112869. This can be checked by visiting the Gibraltar FSC website at https://www.fsc.gi/. As an insurance company authorised in Gibraltar, Watford Insurance Company Europe Limited is permitted under the Financial Services and Markets Act 2000 (Gibraltar) Order 2001 to conduct business in the United Kingdom under FCA reference 714197. You can check this by visiting the Financial Services Register on the FCA website at https://register.fca.org.uk. Details about the extent of its regulation by the Financial Conduct Authority are available on request. Event Insurance Services Ltd is authorised and regulated by the Financial Conduct Authority.
BOOKING